Holiday sales 2009: how the East Coast snowstorm helped
Data released Monday show that online holiday sales skyrocketed – probably because many people on the East Coast stayed home to shop on a snowy 'Super Saturday.'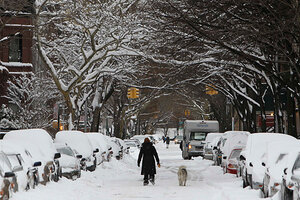 Brendan McDermid/Reuters
The storm that hammered the East Coast on the last shopping weekend before Christmas was a boon for online shopping.
That's one of the findings in data released by MasterCard Advisors' SpendingPulse Monday – the first glimpse at the 2009 holiday shopping season. SpendingPulse, which analyzes national retail and service sales, reported that 6 of the 10 retail sectors it tracks showed positive growth between Nov. 1 and Dec. 24.
The greatest gains came from online commerce, which enjoyed a 15.5 percent increase during the past two months. After "Black Friday," the day after Thanksgiving that retailers use to kick-off special sales and promotions, sales increased 18 percent.
The overall trend helped avoid last year's poor holiday sales, which declined 3.4 percent from 2007 to a historic low. Various media reports suggest that sales increased 3.6 percent in November and December, but SpendingPulse could not confirm the number.
The 'Super Saturday' snowstorm
Retailers had worried that the snowstorm that hit on "Super Saturday" – considered the second heaviest holiday shopping day after "Black Friday" – would hurt their sales. But the storm likely pushed sales "to online shopping and acted like a big shock absorber," which may also have pushed brick-and-mortar sales to late in the week, says Kamalesh Rao, director of economic research at MasterCard SpendingPulse.
"The storm created a last-minute surge; it delayed shopping that weekend," he says, adding that the unstable weather conditions illustrated to retailers the value of catering to online shoppers.
---