Top 10 social media tips for the job hunt
Social media can be an excellent way to find a job – if you do it right.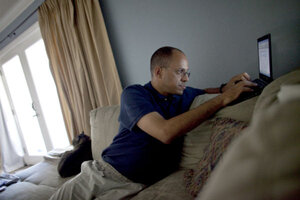 Dai Sugano/San Jose Mercury News/MCT
Sure, you can waste hours of otherwise productive time on Facebook, Twitter, and (to a lesser extent) LinkedIn. But can you turn those time sinks into job leads?
Absolutely, the experts say. Here are the Top 10 job-hunting tricks on social media job.
10. Do it.
While it's not a gilded path to employment, more companies are advertising and searching for new employees on Twitter, LinkedIn, and Facebook.
"The first thing that people should think about is they need to do it. A large portion of the population doesn't understand it, hasn't tried it, is somewhat reluctant to try it," says Josh Warborg, district president at Robert Half, a staffing and consulting firm. "It's going to be an increasing resource because more and more people are using it as a resource."
If it doesn't lead to immediate job benefits now, it will give you better search skills and more contacts down the road.
"Over the next 10 years, the fact is that people are going to find more and more of the jobs over social media," Mr. Warborg adds.
9. Understand the networks.
Spend some time looking around the networks, seeing how influential people act, how their profiles look, and the sites that they reference.
Taking a little time to get a feel for the unwritten rules of each domain will save a lot of embarrassment or awkwardness later on. For example, writing personalized direct messages to Twitter followers is a good way to build rapport without cluttering up others' streams with brief kudos.
And there's one thing that certainly won't change from traditional networking and job seeking.
---