How America can create jobs
The nation's entrepreneurial prowess may be the best hope to stem 9.7 percent unemployment. Companies from a laser-tech firm to a baby-sitting network are harnessing new ideas – and helping reinvent the economy.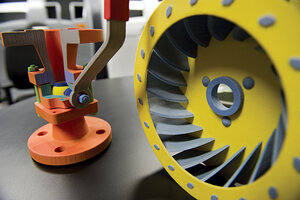 Mary Knox Merrill/Staff
If America is going to mount a solid recovery in jobs coming out of its deep recession, much of the fuel will come from people like Valentin Gapontsev, a Russian immigrant with a thick accent and a knack for turning beams of light into cash.
The company he heads isn't on the Fortune 500 list. It isn't located in a fancy mirror-skinned office building in downtown Boston. Instead, it resides down a blink-and-you'll-miss-it rural driveway, in a modest building where workers perform their tasks in white lab coats.
Yet the firm he founded, IPG Photonics, is putting this quiet community at the forefront of 21st-century laser technology. A decade after the IPG facility opened its doors in Oxford, Mass., nearly 400 people are now employed making equipment that manufacturers use for drilling, cutting, and welding metal parts – everything from car roofs to jet-engine combustors.
"Our target within 10 years is to triple our business, minimum," says Mr. Gapontsev, as he gazes from a conference room at the snow-gauzed woods outside.
Can you bottle what Valentin Gapontsev does? Is he one of a kind, or are there millions of Americans still out there whose skill, passion, and belief in the future has survived the worst battering since the bread lines of the 1930s?
Just saving American business from catastrophe was a heroic enough task over the past two years. Now, however, the focus has shifted to that one-syllable mantra that is the fundamental building block of economic growth: jobs.
Economists see firms like Gapontsev's – young, innovative, hungry – as crucial to job creation. What IPG Photonics does will have to be replicated exponentially across the country in everything from online start-ups to spade-in-the-ground food operations if the US is to put people back to work and raise living standards.
---