New credit card laws 2010: How will I benefit?
New credit card laws in 2010 will put an end to some confusing billing practices and retroactive interest-rate hikes. They took effect Monday.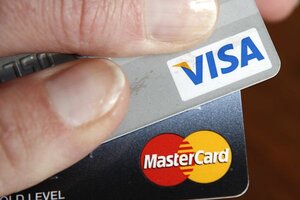 Kevin Lamarque/Reuters
New credit-card laws went into effect Monday, which will offer consumers new protections when they use their plastic.
Just two of the practices targeted – retroactive rate increases and so-called "hair-trigger" penalty interest rates – cost US consumers a minimum of $10 billion per year, according to a recent study by The Pew Charitable Trusts.
While it doesn't address all the concerns of consumer-credit advocates,the Credit Card Accountability, Responsibility, and Disclosure (CARD) Act that President Obama signed into law last May of last year, does give consumers added protections.
The first phase of the legislation, which took effect last August, allowed cardholders to decline significant changes in terms to their credit-card agreements. The third and final phase, which takes this coming August, will be Federal Reserve rules on "reasonable and proportional" penalty fees and charges.
Most of the major reforms of the CARD Act, however, took effect Monday.
Here's a look at the key changes:
1. The end of confusing billing practices
---