Can Americans save money – and the economy?
US consumers want to reduce their debt, but the economy's recovery depends on their confident spending.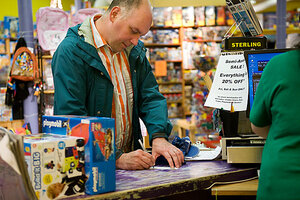 Sarah Beth Glicksteen/The Christian Science Monitor
Americans are eager to see the economy move into higher gear in 2010, but their personal financial struggles appear likely to temper a recovery.
Households are in financial-repair mode. They are trying to rebuild savings accounts, pay down debts, or get by until the job market brings new opportunities.
In many ways, this puts the economy in uncharted waters. Americans have never faced the challenge of bouncing back from such a deep recession while retaining such a high level of debt.
Can households get back on sounder financial footing while providing the fuel of consumer spending that typically drives an economic expansion?
Many forecasters of­fer a "yes, but" answer. Paring back debt burdens doesn't preclude a rise in consumer spending, they say. But they acknowledge they could be wrong. Even if they're right, recovery may be tepid, without quick relief in the jobless rate. And the real test of consumer staying power may come later this year as government stimulus programs begin to fade.
"There's not a lot of gas in the consumer tank," says Brian Bethune, an economist at IHS Global Insight in Lexington, Mass. "In a process of deleveraging, the consumer is just going to be a very elusive individual to track down."
Elusive or not, that individual will be someone to watch as a barometer of recovery.
Here in the working-class city of Revere, Mass., the end of the holiday season hasn't brought shoppers to a halt. But in this community north of Boston, belt-tightening is a common refrain alongside cautious optimism.
---