International women's day: Which nation has smallest pay gap for women?
Several European nations boast smaller pay gaps than the United States, says a new study released on International Women's Day.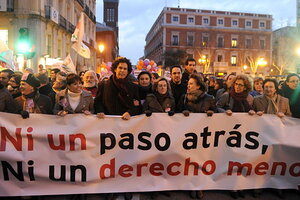 Dominique Faget/AFP/Newscom
Women in the United States have made big strides in reducing the wage gap with men over the past three decades, but pay for women in other industrialized nations is a little more egalitarian on average.
While America's wage gap is much smaller than South Korea's and Japan's, US women still earn nearly a fifth less than their male counterparts. On average among all industrialized nations, women earn about 18 percent less than men despite recent employment rate gains, according to a report the Organization for Economic Cooperation and Development (OECD) released Monday to coincide with International Women's Day.
South Korea has the biggest wage gap at 38 percent, followed by Japan at 33 percent.
Belgium has the smallest wage gap: 9 percent. Click below to see where gender-based wage differences are the biggest and smallest among 22 of 30 industrialized countries (Austria, Turkey, Mexico, Slovakia, Italy, Iceland, Luxembourg, and Norway were not ranked).
---