Obama home-foreclosure relief: Do I qualify for a mortgage refinance?
Here's a look at who qualifies for a mortgage refinance under President Obama's new home-foreclosure relief plan.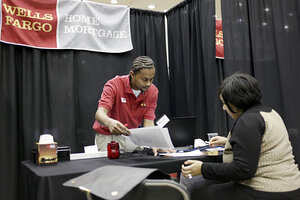 Rob Carr/AP/File
Do you qualify for help under President Obama's latest foreclosure prevention effort, announced Friday?
Here's a quick take on who may be eligible under the new home-loan programs, which include aid to borrowers who become unemployed and incentives for lenders to reduce loan balances for underwater borrowers. The information comes from Obama administration statements and a Friday analysis of those plans by economists at Goldman Sachs in New York.
Three months of mortgage relief for the unemployed
For three months, jobless mortgage holders get temporary forbearance on their mortgage loan. They'll still have to pay 31 percent of their monthly income, but not the full amount they usually have to pay each month on the loan. Loan servicers participating in the Making Home Affordable Program – which includes many big lenders – are required to offer assistance to all jobless borrowers who meet eligibility criteria.
To be eligible, you must show that you are drawing unemployment insurance benefits, that you live in the home, and that the loan was originated before Jan. 1, 2009. The loan balance must be below $729,750. You can't be more than 90 days delinquent in your payments.
FHA refinance loan
Participation in this Federal Housing Administration program is voluntary, with the government providing incentives to encourage lenders to offer principal (loan balance) relief to borrowers at high risk of foreclosure. The target group is borrowers deeply "underwater," with loan balances far above the current value of their home. The idea is to get a win-win outcome, where borrowers stay in their homes and lenders don't lose as much as they otherwise might by foreclosing.
Lenders must agree to reduce the principal balance by at least 10 percent on a first-lien mortgage. After refinancing, the first mortgage can't be larger than 97.75 of the home's value (the current FHA limit) but the total loan-to-value ratio (with a second lien) may be as high as 115 percent. In many cases, this will mean substantial write-downs (losses) for both first- and second-lien lenders.
---