With jobs being added, is US economy ready to stand on its own?
The US economy has been propped up in part by government stimulus spending, but some of those artificial supports are slated to fall away later this year. The big question is whether the economy can sustain jobs growth on its own.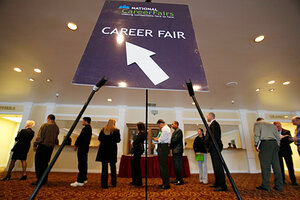 Eric Risberg/AP
America's first solid job gains since entering recession move the economy closer to a crucial point – where growth will come less from artificial stimulus than from self-sustaining demand.
Forecasters say the transition won't happen overnight, but it will come.
One important step may have just been taken. The economy added 162,000 jobs in March, the Labor Department reported Friday. The report came after more than two years of steep job losses, broken only by small employment gains in January and November.
One decent month is, at best, a starting point. The economy still has more than 8 million fewer jobs than when the recession began in 2007. Questions linger about how strong that recovery will be. And government stimulus programs continue to provide some of the key fuel for the economy's nascent revival.
Still, many economists say the private-sector economy is starting to gain some traction of its own – a modest return of consumer demand and more businesses ready to invest and hire. The March jobs numbers may be as good an indicator as any that a new phase of the recovery has begun – a process by which the training wheels of stimulus will slowly be outgrown.
"We believe that a self-sustaining recovery is under way," says Mark Vitner, who works on an economic forecasting team at Wells Fargo Securities in Charlotte, N.C. It's going to take time to bring down the unemployment rate, he says, but "the economy is strong enough to stand on its own."
---
Follow Stories Like This
Get the Monitor stories you care about delivered to your inbox.