Toyota e-mails reveal debate over Toyota recall
Toyota e-mails, published Wednesday, suggest internal divisions over when to issue a recall. Employees' e-mail can often embarrass a corporation – or worse.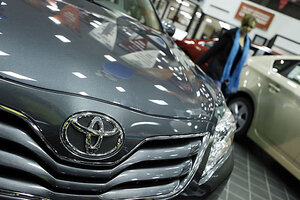 Jose Luis Magana/AP Photo/File
It's almost a given ­in corporate America – communication meant to stay private won't stay that way.
E-mails exchanged between Toyota company executives, published Wednesday, suggest a heated debate within the company about when to release information about the company's now notorious mechanical problems with an accelerator assembly. "We are not protecting our customers by keeping this quiet," one executive wrote. "The time to hide on this one is over."
Now, Toyota faces a new public-relations challenge because, like many corporations, its employees didn't have a handle on how to write e-mails. Knowing what to put in and what to leave out of electronic communication can save workers and their companies a lot of public embarrassment – or worse.
Earlier this week, the Transportation Department announced it would propose fining Toyota $16.4 million for failing to disclose potential safety defects, a move which could lead to other lawsuits against the automaker.
"E-mail creates electronic business records that are equivalent to DNA evidence," says Nancy Flynn, founder and executive director of the ePolicy Institute and author of The e-Policy Handbook. "Toyota is a good example of that."
In 2009, 24 percent of companies surveyed by Ms. Flynn reported that they'd had e-mails subpoenaed as part of an investigation or lawsuit. Forty-three percent of companies reported monitoring employee e-mails.
That means that employees need to be more vigilant about what they choose to put in an e-mail.
---