In Brazil, Hu Jintao aims for bigger piece of Latin America trade
A meeting between Brazil's President Luiz Inácio Lula da Silva and China's President Hu Jintao is expected to strengthen the two nations' growing economic ties. China already trumps the US as Brazil's top trading partner.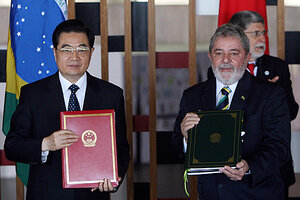 Roberto Jayme/Reuters
Mexico City and São Paulo, Brazil
As Chinese President Hu Jintao visits Brazil on Thursday, he is seeking to expand an already growing economic relationship that is important to both emerging giants.
Trade between Brazil and China rose from $6.7 billion in 2003 to $36.1 billion last year, according to Brazilian government figures. Last year China even dislodged the US as Brazil's top trading partner.
While some regional analysts have criticized China's growing presence in the region and questioned its motives, most believe the Asian giant is simply acting in its own economic interest. In the last several years, the relationship between China and Latin America has deepened, especially since Hu made a regional visit in 2004 that ignited a steady climb in China's consumption of South American commodities.
On Thursday, Mr. Hu decided to cut short his visit and depart after his meetings so he could get home and help deal with the aftermath of an earthquake in Qinghai province that killed at least 618 people.
Complex ties
Trade between China and the region is often seen as a simple exchange of Latin American commodities like copper for Chinese manufactured goods like televisions or radios. In the case of Brazil last year, 76.8 percent of exports to China were basic products and 98.1 percent of Chinese imports were manufactured goods.
---