Obama to Wall Street: financial reform is in your interest
In a speech before many of the richest Wall Street bankers, Obama argued, 'We will rise or we will fall together as one nation.' But financial reform could have big downsides for bankers.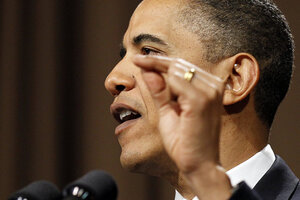 Alex Brandon/AP
President Obama sought to bridge the divide between very different worlds – Wall Street and the rest of America – as he argued for financial reform legislation in a speech Thursday.
"Ultimately, there is no dividing line between Main Street and Wall Street," the president told a crowd at Cooper Union college in Manhattan that included some of America's richest bankers. "We will rise or we will fall together as one nation.... I urge all of you to join me, to join those who are seeking to pass these common-sense reforms."
Here's how Mr. Obama may be right with that "one nation" argument: The economy needs a financial system, and banks can best succeed as part of a vibrant broader economy.
But where Obama said reform is "in the interest of your industry," that doesn't necessarily mean it will be good for bankers personally. For many, the reforms may mean smaller paychecks and less dealmaking freedom.
For many bankers, the pre-reform world meant huge trading profits and fees from complex derivatives. It meant bonuses that hinged on short- rather than long-term performance. And, when things went badly, that world included massive government bailouts that helped banks get back on their feet.
---