Goldman Sachs vs. SEC: 'Vampire squid' or 'doing God's work'?
Is Goldman Sachs a breeding ground for speculative booms and busts that have harmed America, as critics assert? Or does the work of Goldman Sachs create a vital foundation for economic growth? The Goldman Sachs-SEC case has reopened that longstanding debate.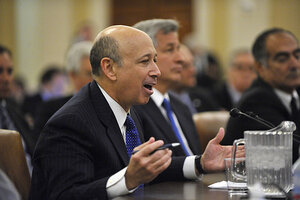 Newscom
Allegations of investor fraud by Goldman Sachs are adding fuel to a larger controversy that won't be settled in a courtroom. In essence, the question is whether this powerful investment bank is a force for economic good or evil.
The debate isn't new, but it has grown louder in the wake of 2008's massive financial crisis, government bailouts for Goldman and other Wall Street firms, and now the lawsuit by the Securities and Exchange Commission (SEC).
The answer to the good-or-evil question probably isn't a simple one, although some have tried to frame it that way.
Writer Matt Taibbi earned a spot at the forefront of Goldman critics by distilling the case against the firm into a single memorable image. In a Rolling Stone article last summer, he described America's largest investment bank as "a great vampire squid wrapped around the face of humanity," extracting money wherever it can.
Not surprisingly, Goldman Sachs doesn't like this characterization, and has begged to differ.
Just a banker 'doing God's work'
---