Goldman Sachs could roil California governor race
The SEC investigation of Goldman Sachs could hurt California gubernatorial candidate Meg Whitman, who as CEO of eBay sat on the investment bank's board.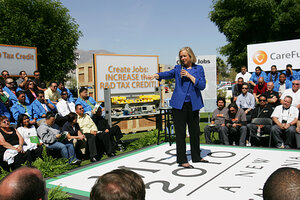 Omar Ornelas/The Desert Sun/AP
As Wall Street watches to see what happens as the US government faces off with Goldman Sachs, the nation's largest investment bank, fallout is expected to negatively impact Meg Whitman, the billionaire Republican candidate for California governor, say a host of political analysts.
If not handled correctly, the scandal could also injure Jerry Brown, the only major Democratic candidate in the race.
The former CEO of eBay announced her candidacy last September and has recently commanded a compelling lead in the polls against her primary rival, insurance commissioner Steve Poizner. Ms. Whitman sat on the board of Goldman Sachs before resigning seven years ago in a controversy over how she and other executives received shares in initial public offerings. Campaign finance records show she held stakes in Goldman and Goldman-managed investment funds after resigning.
Her surge in the California polls has occurred as she has barraged TV airwaves with $46 million in ads – on track to spend more money than any candidate in state history – that tell voters that the ailing state needs to "be run like a business." She touts her own history as CEO of eBay as evidence that she is the candidate that can turn the state around.
---