Can Apple's iPad spur economic recovery?
Sales of Apple's iPad are strong. If they skyrocket, they may herald a faster-than-expected recovery.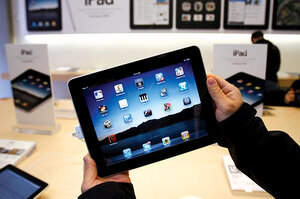 AP
The gadget is billed as a breakthrough. Born in the deepest recession since the Great Depression, it becomes a must-have. Americans snap up so many of them that suppliers run short and a high-tech boom is born.
That was the IBM PC in 1983. The boxy personal computer became an office staple, a household buzzword, and an icon of how a battered economy reinvents itself and moves powerfully forward.
Will Apple's iPad do the same for today's economy?
The snazzy tablet computer is already getting accolades and, so far, flying off the shelves. Usually, high-tech sales and the larger economy are loosely related. People buy fewer gadgets when times are tough, but breakthrough products transcend their economic times and keep on selling. On rare occasions, a boom in the product signals great times for the economy.
For that to happen with the iPad, both it and the economy will have to outperform expectations by significant margins.
"For many consumers, the iPad is a ray of sunshine on a dark day," says Sarah Rotman Epps, an analyst for Forrester Research in Cambridge, Mass. But "the iPad is a specialized device. It's not a phone. It's not a laptop. There's a learning curve for consumers to understand why they'll need to have it."
---