What caused the stock market's wild swing?
Here are questions and (some) answers regarding what's known about the stock market's 20-minute, 600-plus-point roller-coaster ride on Thursday. The Dow closed down again on Friday.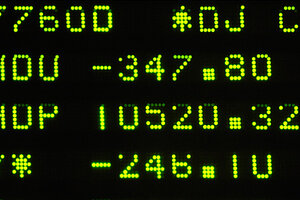 Henny Ray Abrams/AP
Thursday's surreal stock market performance was like something out of "The Twilight Zone." Call it the Twilight Exchange – a place where stock markets crash but trades didn't happen, a place where investors watched their stocks fall to a penny a share only to find out it was all one big … mistake.
Yes, investors, in a 20-minute period Thursday afternoon the Dow Jones Industrial Average fell by more than 600 points, only to reverse itself and climb by the same amount. (On Friday, it fell another 138.89 points, closing at 10380.) But some of the exchanges have "busted" many of those Thursday trades, saying they really didn't happen. What does this mean?
First of all, the companies that maintain the indices – Dow Jones Indexes, a member of the CME Group, and Standard & Poor's (S&P) – say they are not planning to revise their numbers to reflect stock trades that have now been reversed.
For example, none of the individual components of the Dow Jones Industrial Average rose or fell by 60 percent in that time period, says Sybille Reitz, a spokeswoman for the Dow Jones Indexes. "We did reflect the market at the time, but at the same time we didn't use the pricing information that they busted."
Most important, says Ms. Reitz, there was no need to adjust closing values because they were not affected by the decision to negate trades.
Likewise, Standard & Poor's, which manages various indices, says it has no plans to account for the trades that did not happen.
"We don't rewrite history," says David Guarino, a spokesman for S&P in New York. "This is more of a question for the exchanges and product providers."
---