After the housing crisis home flippers cash in on foreclosures
After the housing crisis, real estate wholesalers are finding investors for foreclosures and distressed homes, who fix them up. But are low-income buyers shut out?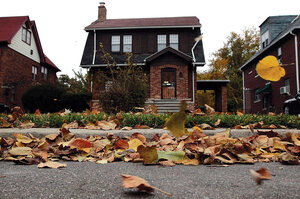 Rebecca Cook/Reuters/File
In a post-recession America rife with foreclosures and upside-down mortgages left over from the housing crisis, many cities and towns are stuck with houses so run-down they're almost uninhabitable. In some neighborhoods, they blight entire blocks. Some cities have begun to bulldoze them, but here's another option:
A friendly man answers the phone number listed on a Craigslist posting promising a fast sale. He explains that after just a 10- or 15-minute inspection, he'll be able to get you cash for your house – no matter the condition – in only a few days. No, he's not a broker. He's a real estate wholesaler who quickly flips homes to a new buyer, usually an investor, for a profit ranging from a couple of thousand dollars to $10,000.
Real estate wholesaling is a relatively obscure practice that offers mixed benefits to communities. On the one hand, it quickly puts distressed or dilapidated properties into the hands of people who fix them up to sell or rent. On the other hand, wholesalers' markup can make it harder for lower-income families and
affordable-housing groups to buy homes.
While no one tracks the extent of wholesaling, one thing is clear: Where once wholesalers had to post ads on telephone poles and billboards to find willing sellers, the housing market is now glutted with distressed homes. March alone saw nearly 370,000 foreclosure notices on properties, the highest monthly total since online foreclosure marketplace RealtyTrac began tracking them in January 2005. That backlog has spawned a surge in buying activity in some real estate markets.
---