Vacant homes spread blight in suburb and city alike
Amid housing bust, foreclosures vex communities trying to hold dereliction and crime in check.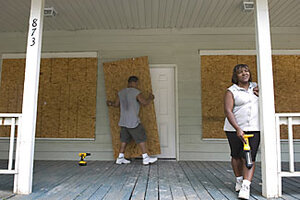 Erik S. Lesser/Special to The Christian Science Monitor
In Mesa, Ariz., officials are trying to decide what to do about boarded-up McMansions that become party pads, trashed in raucous "raves" where invitations come by text message.
In Atlanta, thieving from abandoned properties is so bad that police caught one man building a new house entirely of pilfered materials from empty homes.
Flint, Mich., has had to add firefighters and ladder trucks recently even though its population has declined. Up to 90 percent of fires start in homes where no one lives.
From Atlanta's urban core to leafy neighborhoods filled with chirping crickets in Charlotte, N.C., some 2.2 million homes are expected to go through foreclosure – and stand empty – by the time the mortgage meltdown ends, according to Global Insight, an economic research firm. As the housing dominoes fall far from Wall Street, growing urban "ghost towns" of vacant houses are resulting in a costly crush of weeds, trash, and dereliction on a scale unseen in American cities since the Great Depression, economists say.
---