SEC unveils 'flash crash' fixes, but Dow plunge still mysterious
A report on the May 6 stock market 'flash crash' released by regulators Tuesday is thin on answers for why the Dow took a 1,000-point dive.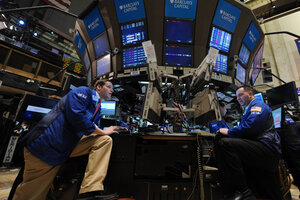 Newscom
Regulators have issued a long report (PDF) on the May 6 "flash crash" in stocks, but much of it boils down to this: We still don't know what happened.
The two agencies that oversee key US financial exchanges said several steps are being pursued or considered to reduce the risk of such crashes, including new "circuit breakers" when individual stocks become unusually volatile.
But the Securities and Exchange Commission (SEC) and Commodity Futures Trading Commission (CFTC) said the review of the May 6 stock plunge "is in its preliminary stages" and that key questions remain unanswered.
The report reaches no conclusion, for example, on why shares in one of the sturdiest of blue-chip stocks – Procter & Gamble – took an even steeper dive than the rest of the Dow Jones Industrial Average on that Thursday.
More broadly, the Dow's nearly 1,000-point dive on that day also remains a large mystery.
"Beginning shortly after 2:30 p.m., [the day's] overall decline in the financial markets suddenly accelerated," the SEC and CFTC said in the report, issued late Tuesday. "Within a matter of a few minutes, there was an additional decline of more than five percent in both the equity and futures markets. This rapid decline was followed by a similarly rapid recovery."
Procter & Gamble (with the ticker symbol PG) fared much worse than the roughly 9 percent plunge the Dow saw from its open on May 6. "PG declined from more than $60 to a low of $39.37 in approximately 3.5 minutes," the report said. Then the stock recovered above $60 in about one minute.
---