Businesses 'not hiring' because of economic uncertainty
Weak sales are keeping many businesses from hiring new workers. Consumers are not spending at their normal levels, and although housing has improved, it's not leading the economic recovery.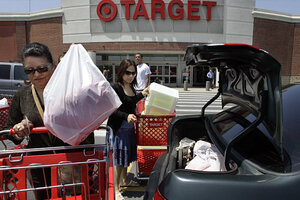 Steven Senne/AP
Last month, businesses took down the "now hiring" signs.
Why?

The biggest reason appears to be "uncertainty."

Talk to a business group, economic development executives, and corporate decisionmakers, and many of them point a finger at some form of risk or policy change that may have consequences for their business. They worry whether they can afford to take on a new hire.
Some of their worries are more intangible, such as the consequences of the stock market falling sharply – as it did on Friday when the Dow Jones Industrial Average lost 323.31 points, or 3.15 percent of its value.
"Companies just got through laying off a substantial portion of their workforce. You need a good reason to add back workers," says Dan Meckstroth, chief economist for Manufacturers Alliance/MAPI in Arlington, Va. "They are reluctant to make investments to bring back people to work unless they have firm orders in hand."

On Friday, this reluctance was quantified in the May employment report when the US Bureau of Labor Statistics reported that the private sector added only 41,000 jobs, far fewer than Wall Street had been expecting. The best job creators were manufacturing (up 29,000 over April), temporary-help services (up 31,000), and mining (up 10,000).

Normally, small business is a major job producer. But according to a survey by the National Federation of Independent Business (NFIB), most firms did not change their employment in May. For those who did, 8 percent increased employment by 2.4 employees, while 20 percent decreased their workforce by four people.

Why are small businesses reluctant to add workers?

"Weak sales, weak sales, weak sales," says William Dunkelberg, chief economist for NFIB, which has many small-business members. "When you hire someone, they have to generate enough sales to cover the expense of hiring them, or you are in trouble."
---