Thatcher II? Britain poised to slash budgets, government's role.
UK Chancellor of the Exchequer George Osborne told parliament today that the new government will be seeking broad public input on an 'emergency budget' designed to slash the deficit and modeled on a crash program used by Canada in the 1990s.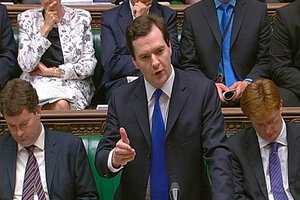 Parbul TV via Reuters TV/Reuters
Rolling up its sleeves to grapple with a ballooning deficit, Britain's new Tory-led government hinted at the steepest spending cuts in a generation today while launching a campaign of public consultation it hopes will dull the pain when cuts in government services kick in.
Prime Minister David Cameron's government has been selling the current recession as a once-in-a-generation chance to reduce the role of government in British society and get control of an annual budget deficit that has grown to about 12 percent of gross domestic product – about four times the level that the European Union deems safe. The government has promised that spending cuts are being considered everywhere, from defense to schooling.
The hatchet man for Mr. Cameron's budget cuts will be Chancellor of the Exchequer George Osborne, who told Parliament today that public input will be considered over the next two weeks before the government releases its so-called "emergency budget" on June 22, which will detail the plan.
"All parts of society will have a chance to have their voice heard," Mr. Osborne said.
One opposition wag dubbed this an "Axe-Factor" approach to spending cuts, playing off the X-Factor, a popular British talent show.
---