Fix the economy? There's a mobile app for that.
Mobile apps could boost the economy just as previous high-tech breakthroughs have.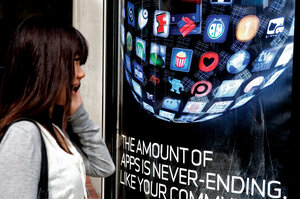 Taylor Weidman/The Christian Science Monitor
In 1976, Apple built its first computer, kicking off a personal computer revolution that helped push the United States out of a deep economic rut a few years later. After the downturn of the early 1990s, the rise of the Web proved to be a bright spot in the economy. Now, as the US struggles to recover from an even steeper recession, can today's hot technology – mobile applications or mobile apps – provide a similar economic boost?
It's a tall order. Information technology since its start has helped expand the US economy by some $2 trillion, says the Information Technology and Innovation Foundation (ITIF) in Washington. Mobile apps, pieces of software for mobile devices, can be downloaded for a few dollars, or even free of charge sometimes. So it takes big sales to generate big revenue.
Nevertheless, the prospects are encouraging. Globally, users made more than 7 billion software downloads from app stores last year; by 2012, they will be making nearly 50 billion, according to estimates by an independent study commissioned by GetJar, a cross-platform app store with locations in the US, Britain, and Lithuania. Entrepreneurs are busy creating apps for everything from games and news to real estate listings and recipes. Revenues from Apple's and others' primary app stores are slated to rise from $3 billion last year to $18 billion by 2014, according to Todd Day, an industry analyst at Frost & Sullivan.
---