Stock market opens lower, as European news weighs on US
Stock market in US is hit by concerns overseas, as a report points to heightened risk in European banks. No upward bounce from new Obama stimulus proposals.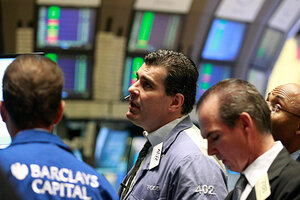 Brendan McDermid/Reuters
The stock market slumped as it opened the first trading session after the Labor Day holiday, with investors focusing on fresh concerns about the health of European banks.
The Dow Jones Industrial Average was down about 75 points, or nearly 1 percent, two hours after the 9:30 a.m. opening bell Tuesday. The Standard & Poor's 500 stock index was down a similar amount.
In part, investors latched onto less-than-encouraging reports out of Europe amid a dearth of other big financial news.
In the past six months, US and European stocks have moved more or less in lock step. Both markets fell in April and May as concerns about possible sovereign defaults by nations such as Greece roiled European markets. Both have recovered some ground in up-and-down trading since then, in part because investors have been reassured that Eurozone governments are moving to mitigate the risk of crisis in Europe's banking system.
The latest news doesn't necessarily change that outlook but is a reminder of the hurdles ahead. Europe's banks may need to raise more capital as a result of recent "stress tests" by regulators, the German newspaper Die Zeit said in a report citing leaked official documents. Banks in the Eurozone have significant holdings of European sovereign debt. Meanwhile, The Wall Street Journal reported that the stress tests may have underestimated the risky exposures of European banks.
---