Why 100,000 jobs a month won't lower unemployment rate
The US has averaged about 100,000 new jobs a month for eight months. Good, right? Well, the US is growing, and 100,000 jobs aren't enough for the new people coming into the workforce.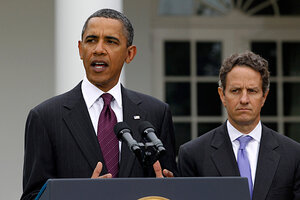 Jason Reed/Reuters
Stock investors cheered Friday because the latest monthly jobs report wasn't terrible. But the big issue remains: Even if you set aside the temporary impact of downsizing at the Census Bureau, the economy isn't generating nearly enough new jobs to bring down the US unemployment rate.
Here's the problem. August marked the eighth straight month of job gains in the the private sector – a welcome pattern that President Obama was quick to highlight. Yet those gains average less than 100,000 per month. That's not enough to improve the job market, economists say.
How's that? Well, if the whole economy, including government, ticked along at a pace of 100,000 job gains per month, it wouldn't be fast enough to account for natural demographic growth in the labor force. A rising population means about that many new people should be entering the workforce each month.
So a modest pace of 100,000 jobs a month is certainly better than declines, but it doesn't begin to fill America's jobs hole.
In fact, unemployment could actually rise more. On Friday, the Labor Department said the jobless rate edged up to 9.6 percent in August, from 9.5 percent in July. The disappearance of Census jobs outweighed a gain of 67,000 new jobs in the private sector.
What lies ahead
Of course, just because the private sector has averaged about 95,000 jobs a month this year doesn't mean that trend will continue. Some forecasters worry that things will get worse later this year. The job market hasn't been as strong in the summer as it was in the spring. Others expect job numbers to pick up as the economy gets beyond what they call a recent "soft patch" or "pause."
---