Unemployment rate steady at 9.6 percent: Is Obama's plan working?
President Obama says government aid to states kept the unemployment rate from rising. Republicans say government spending is undercutting an economic recovery.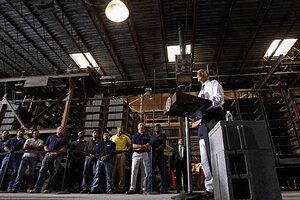 Jim Young/Reuters
The last monthly jobs report before fall elections showed a loss of 95,000 jobs in the US economy, a disappointing number for American workers and also for Democrats hoping to hang onto their majority in Congress.
The September job losses were concentrated in state and local governments, as well as in the phase-out of temporary positions at the US Census Bureau.
Private sector employers added jobs, but at a tepid pace of 64,000 jobs for the month. The US unemployment rate held steady at 9.6 percent.
"We've now seen nine straight months of private sector job growth," President Obama said. Pointing to the loss of public-sector jobs, he said those losses would have been even worse without federal aid to cash-strapped states, which Democrats supported and many Republicans opposed.
"The Republican position doesn't make much sense," he argued, saying that a decline in paychecks from government jobs currently creates "a drag on the private sector as well."
---