Happy Meal ban: No toys for you!
Happy Meal ban: San Francisco restaurants can't package toys with unhealthy meals, says Board of Supervisors. Happy Meals either have to become healthier or lose the toys.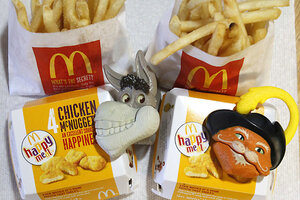 Photo illustration / Mario Anzuoni / Reuters / File
Bye-bye, teenie beanies.
In a move to slow skyrocketing childhood obesity rates, the San Francisco Board of Supervisors voted Tuesday to stop toy giveaways with unhealthy meals. Though the ordinance didn't mention McDonald's by name, the Happy Meal, beloved by kids for 31 years, is the obvious target.
Mayor Gavin Newsom has said he'll veto it, but it passed 8-3, meaning that it can override a veto. It will likely take effect in December 2011.
The ordinance doesn't exactly ban the toys. It just says that they can't be included with meals that flunk certain nutritional requirements for fat, calories, and sodium levels – and yes, Happy Meals are fatty and calorie-laden.
"The ordinance is very clear. We don't say that you can't hand out toys, but we set out certain nutritional guidelines that have to be met before the toys can be given out," said Ken Yeager, president of the Santa Clara County board of supervisors, about a similar ordinance that passed in Santa Clara County six months ago.
"McDonald's is the stranger in the playground handing out candy to children," said Stephen Gardner, litigation director of the Center for Science in the Public Interest (CSPI), a non-profit health research and advocacy group based out of Washington, DC. In June, CSPI threatened to sue McDonald's if they didn't stop using toys to woo children. "McDonald's use of toys undercuts parental authority and exploits young children's developmental immaturity – all this to induce children to prefer foods that may harm their health. It's a creepy and predatory practice that warrants an injunction."
---