Egg recall: DeCoster-linked farm releases contaminated eggs. Again.
Egg recall this past week involves megafarmer Jack DeCoster, whose farm was part of this summer's huge 550 million egg recall.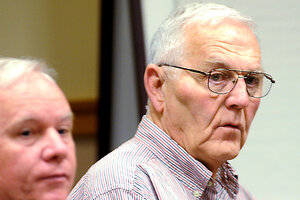 Amber Waterman / Sun Journal / AP / File
What does it take to get kicked out of the egg industry?
Nearly 300,000 eggs are being recalled contaminated with the same disease – and coming from a company linked to the same two men – as in this summer's huge 550 million egg recall.
Egg seller Cal-Maine, Inc. announced Nov. 5 that it was recalling "approximately 24,000 dozen" eggs that it had processed and repackaged between Oct. 9 and 12. The company issued the recall after the Food & Drug Administration (FDA) informed it that a study sample had tested positive for salmonella enteritidis.
The contaminated eggs were distributed to food wholesalers and retailers in Arkansas, California, Illinois, Iowa, Kansas, Missouri, Oklahoma, and Texas, Cal-Maine reported. The full list of contaminated brands and lots is below.
There have been no confirmed illnesses related to the purchased eggs, but "consumers who believe they may have purchased potentially affected shell eggs should not eat them," Cal-Maine said in a statement. "Return them to the store where they were purchased for a full refund."
---