Bernanke: Federal Reserve not to blame for food price inflation
Federal Reserve Chairman Ben Bernanke addressed criticisms at the National Press Club in Washington, answering challenges about record-high food and oil prices and the unpopular 'QE2.'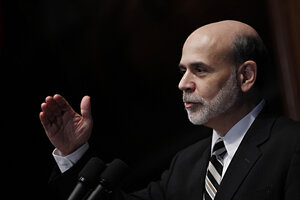 Jim Young / Reuters
When the Federal Reserve unveiled a controversial program to buy Treasury bonds last summer, in a new bid to boost the US economy, critics warned that it could unleash inflationary pressures. Since then, global prices for basic commodities have soared, with one measure of global food prices now at a record high.
So, is the Fed to blame?
On Thursday, Fed Chairman Ben Bernanke pushed back against that idea.
The Fed chief's comments at the National Press Club in Washington came on the heels of an announcement from the United Nations that global food prices rose for the seventh straight month in January. The UN's food-price index now stands at its highest level in its 21-year history. Oil prices, meanwhile, have jumped above $90 per barrel in recent days.
One questioner focused on the Fed's possible role in driving food prices and whether those rising prices have fueled social unrest in the Middle East.
Bernanke said that factors other than food prices may be playing a role in the protests in Egypt and elsewhere, and that global food prices are rising mainly because of trends in emerging markets.
---