Lamborghini Aventador, McLaren, Pagani: Is a supercar war brewing?
Lamborghini Aventador is one of three supercars announced this month.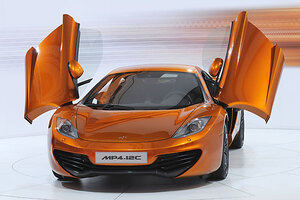 ZUMA Press/Newscom/File
Does just-leaked news of the Lamborghini Aventador LP700-4 mean that a new supercar war is heating up – and that there might actually be a strengthening market for such ultra high-end vehicles?
The auto press is buzzing about the Italian automaker's new flagship car, which will reportedly be unveiled March 1 at the Geneva Motor Show.
It comes with a 700-h.p. V-12 engine and a monocoque (one piece) body made exclusively of carbon fiber mounted on a rigid aluminum frame. That results in a power-to-weight ratio that will get Aventador from 0-60 in under three seconds.
If you need to ask what it costs, then you can't afford one. Supercars start at $200,000 and can run north of $500,000 – well north, in fact.
Lamborghini Aventador has an estimated price of about $370,000. But much is being made of a new report from IHS Automotive in Frankfurt that says sales of supercars in the US, the top market, could jump 146 percent this year after skidding 40 percent in 2010.
---