Top picks in 2011 Consumer Reports car issue: Ford, Kia, and Used
The 2011 Consumer Reports car issue recommends new models by familiar brands, including Toyota and Honda. And for value-conscious buyers, it offers this time-tested advice: Buy Used.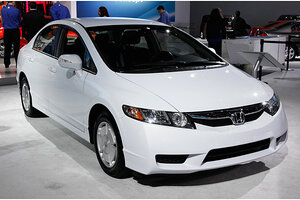 Paul Sancya/AP
Consumer Reports released its closely watched annual ratings of automobiles Monday, putting the Ford Mustang and Kia Sorento newly on its "top picks" pedestals, and enshrining the Honda Fit as a new value-mobile.

Toyota came out as another winner in the rankings, with positive publicity for its Sienna minivan and Rav4 sport-utility vehicle after a rocky period of headlines about product recalls.
Perhaps the biggest winner, though, isn't a 2011 vehicle at all.
It's the idea of buying a used car. Although that's a perennial option for budget-conscious consumers, the ranks of the thrifty have grown as a deep recession has been followed by a lackluster economic recovery.
"With the average new car losing 47 percent of its value in the first three years of ownership, buying a used car can be the best way for consumers to get the most vehicle for their money," Consumer Reports said in materials released to reporters Monday. The magazine's April issue, with the annual car-buying guide, is scheduled to be available on newsstands March 8.
Here's a look at winners and losers in the Consumer Reports analysis:
Winner: buying used
The magazine points to a number of 2008 models that are relatively trouble-free. In all, roughly, three-quarters of the three-year-old vehicles in its survey were problem-free, as were two-thirds of the five-year-old vehicles.
---