Toyota Prius recall: Is my 2010 Prius safe to drive? When will it be fixed?
(Read article summary)
With its Prius and Lexus recall, Toyota is gearing up to fix a software glitch for the braking system.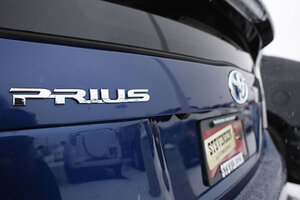 David Zalubowski/AP
[Editor's note: This story was updated on Feb. 9 3:15 p.m. EST with additional information from Toyota.]
Toyota's worldwide recall of two hybrids hits the brands that the company has most wanted to protect: the Prius and the Lexus.
During its January recall for sticky accelerators, Toyota went out of its way to point out that no Lexus was being recalled. That changed with Tuesday's recall of more than 400,000 2010 models Priuses in the United States, Asia, and Europe and all 2010 Lexus HS 250h cars sold in the United States. This one involves braking problems.
"The past few weeks ... have made clear that Toyota has not lived up to the high standards we set for ourselves," Akio Toyoda, Toyota's CEO, wrote in an op-ed Tuesday in The Washington Post. "More important, we have not lived up to the high standards you have come to expect from us."
Separately, the company announced a recall involving a power-steering pressure hose affecting some 7,300 2010 four-cylinder Camrys.
So what should owners of Priuses and Lexus hybrids do?
---