Swiss bank account? Better report it now.
The IRS is offering partial amnesty for Americans who report previously undisclosed Swiss bank or other foreign bank accounts.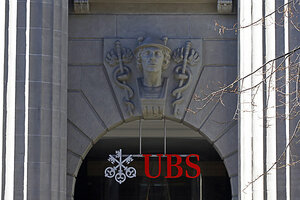 Alessandro Della Bella / AP / File
The IRS has made an offer to Americans with unreported offshore accounts: Turn yourself in, and you won't face possible time in jail or fines as high as usual. The partial amnesty program started in February, and the offer extends to Aug. 31, 2011.
Normally, if somebody volunteers to come forward with an undisclosed account, the penalty will be less severe than if they're nabbed. This program makes that penalty even lighter, though IRS Commissioner Doug Shulman says it's "a steep price."
The IRS made a similar "last chance" offer two years ago, but they say this time really is the final chance to come clean for such a mild penalty. The 2009 program had lower fines than this year's: 15,000 Americans reported previously undisclosed foreign accounts.
Will such an offer work again?
Yes, says Harry Miller, a partner at Burns & Levinson law firm in Boston.
RELATED: Tax deductions for bingo and other weird IRS write-offs
First, people are more nervous about getting caught, he says. In 2009, shortly before the program's deadline, the US government obtained the names of 4,450 Americans with unreported accounts at the Swiss bank UBS, that at one point held a total of $18 billion. The people who were caught before they came forward had to pay fines and back taxes, and in some cases, faced prosecution and jail time.
---