IRS cracks open 4,450 Swiss bank accounts
Deal with Swiss banking giant UBS gives access to secret accounts of Americans evading tax authorities.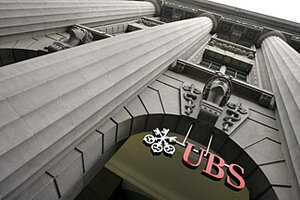 Keystone/Walter Bieri/AP/File
Swiss banking giant UBS said Wednesday it had agreed to give to American authorities the names of up to 4,450 US account holders who the Internal Revenue Service suspects of using Switzerland's vaunted banking secrecy rules to avoid paying billions of dollars in US taxes.
The announcement ends an eight-month legal battle that strained Swiss-US diplomatic ties, saw UBS agree to pay $780 million in fines, and had Swiss bankers worrying that the secrecy laws that made Zurich synonymous with wealth were under siege.
IRS Commissioner Douglas Shulman declared "the world of international taxes has drastically changed" in a conference call with reporters. In a Bloomberg TV interview, Mr. Shulman said this case shows that the IRS can and will expand its global reach to catch American tax evaders.
"We're going to have our targets set on all categories of folks," Shulman said.
He also said the US will be given access to 5,000 Swiss accounts which at one point had $18 billion in assets.
No fishing expeditions
But the agreement makes it clear that the days of the numbered Swiss account aren't over and the disclosures required by the deal aren't nearly as broad as originally expected.
In a nutshell, the Swiss have said that they will disclose names where there's strong evidence of tax evasion, but not allow fishing expeditions by the US or other foreign governments. The US had at one point said it wanted the names of 52,000 UBS clients.
---