$1,506 an ounce: What's behind the rush on gold?
The price of gold has soared almost 32 percent in a year, making it the best of investments. The rise has been fueled by rock-bottom interest rates and inflation fears. Can the good times last?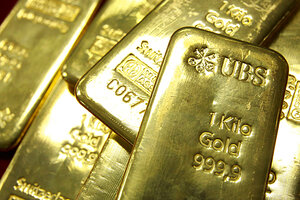 Nicky Loh/Reuters
Since last April, gold has been the shiniest of investments, rising almost 32 percent.
More recently, bullion is up about 5 percent in the last three months. And, on Thursday, it hit a record $1,506 per ounce, up $7.70.
What's behind the run-up in the metal?
To buyers of gold, it's a good hedge against inflation – something they are worried about because of the huge US budget deficits and the Federal Reserve's accommodative monetary policy that has kept interest rates low. But, people who are anti-gold, argue there is no sign of inflation in the economic statistics and the Fed will push up rates once it perceives inflation becoming a problem.
In the past week, gold has benefited from the announcement by Standard & Poor's that it was downgrading the outlook for US government debt because of all the political uncertainty over resolving the US deficit issue. But, even before that move, gold has been rising at the same time as the US dollar has been sinking.
"Investors are concerned about the long-term purchasing power of the US dollar," says Axel Merk, president of Merk Investments, which owns some gold and manages $650 million from Palo Alto, California. "The fear is the US budget is not on a sustainable path and our policymakers are not taking it seriously enough."
---