Oil prices fall again: Is commodities boom ending?
Rising oil prices have been part of a surge for commodities like gold and silver. The drop in oil prices this week suggests that that surge might be ending.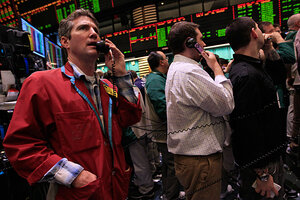 Mary Altaffer/AP
Oil prices fell again Friday despite a strong report on the US job market, capping a week in which the price of petroleum fell about 15 percent.
After hitting a two-year high of $114.83 per barrel in Monday trading, oil closed Friday at $97.18 in US markets.
The drop came as investors have also put downward pressure on prices for other commodities, from silver to industrial metals and grains. The broad complex of commodities took a sharp dive on Thursday, raising questions of whether a months-long boom in this sector of investing may be drawing to a close.
At the very least, it has lost some steam for several reasons. One is signs that the global economy may not be as strong as investors were assuming earlier this spring, suggesting that demand might be low. Another is that, once a hot investment trend looks like it might be peaking, money often flows out. Silver, in particular, posted such a sharp drop this week that some analysts said a speculative bubble had burst.
"The commodity bubble may be beginning to break as others join us in thinking about a hard landing in China, falling US house prices, and troubles in Japan and the eurozone," economist Gary Shilling, a forecaster based in Springfield, N.J., wrote in a report to clients earlier this month.
---
Follow Stories Like This
Get the Monitor stories you care about delivered to your inbox.