New jobs down, unemployment up: Is the economy hitting a pothole or a ditch?
Unemployment increased to 9.1 percent in May, and only 54,000 new jobs were created. Economists point to lingering impacts of the tsunami plus rising food and gas prices.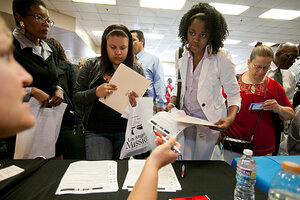 Damian Dovarganes/AP
The economy seems to have hit a speed bump – but not a stoplight.
The latest indication of the slowing economic pace came on Friday, when the Bureau of Labor Statistics reported the economy created just 54,000 jobs in May, the lowest number since September of 2010. At the same time, the BLS reported, the nation's unemployment rate moved up to 9.1 percent from 9 percent in April.
Job growth in May was considerably slower than March and April, when it was averaging over 200,000 new positions per month.
Behind the slowdown, say economists, are the ripple effects on the auto industry from the tsunami in Japan, the adverse impact of rising food and gasoline prices, and a slowdown in business hiring.
"We've hit a soft patch," says Joel Naroff of Naroff Economic Advisors in Holland, Pa. "It looks like we may have a month or two of subpar job growth."
The weak jobs numbers prompted a spate of press conferences and press releases in Washington. The Republicans blamed excessive federal spending, lack of progress on reforming entitlements, and the high federal debt levels.
"Instead of more stimulus, more debt, more regulations, and yes, more taxes, the President needs to take a cue from the Reagan recovery and get Washington out of the way of our job creators," said Rep. Kevin Brady (R) of Texas, the top Republican on the Joint Economic Committee, in an announcement.
---