Reverse mortgages harder to get. Is one right for you?
Reverse mortgages granted in 2010 were down nearly a third from levels in 2009, due to stricter regulations and the housing slump. While some see reverse mortgages as a sophisticated tool, many say it's only a last resort.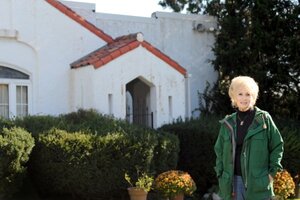 Steve Ruark/AP/File
With a deluxe riverside home and a Mercedes SLK500 in the garage, Robert Watson of Grants Pass, Ore., defies stereotypes of cash-poor holders of reverse mortgages. He and his wife, both in their 70s, live comfortably on $3,000 per month. But he likes good deals, and he thinks he found one in a $280,000 loan that requires no monthly payments.
"We lost $175,000 in the stock market, and with income from our investments reduced, we said, 'OK, let's do something,' " Mr. Watson says. "Now with this amount of money, we're set for life."
Reverse mortgages let people age 62 and older convert home equity to cash without making monthly payments. They're attracting fresh attention as new options – and new warnings – emerge, and as the number of reverse mortgages falls for the first time in years. Debate now centers on whether the product is a versatile tool to help seniors of various means – or only an option of last resort.
With a reverse mortgage, a homeowner receives a lump sum, an equity line of credit, or a monthly payment in exchange for equity in the property. Unlike with a home equity loan, the reverse mortgage borrower makes no payments until the property changes hands. When the owner dies or sells, the lender collects proceeds from the sale. Between 550,000 and 600,000 households in the United States have reverse mortgages through private- sector companies, according to the National Reverse Mortgage Lenders Association (NRMLA), an industry trade group.
---