Mortgage rates at record lows. Will that finally lift US housing market?
Record-low interest rates on mortgages are one outcome of debt-ceiling deal. But they are just one piece of recovery for the housing market, which is beset by falling prices and high jobless rates.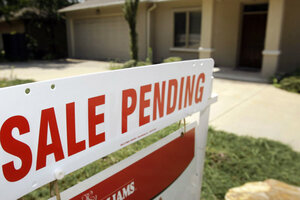 Danny Johnston/AP
One bit of positive fallout from the debt-ceiling deal reached earlier this week: Mortgage rates have fallen to levels that are at or near record lows.
That's a boost for the US housing market, which is still struggling to recover from the after-effects of an epic boom and bust.
Interest costs on a 30-year fixed-rate mortgage averaged just 4.39 percent this week, according to housing-finance giant Freddie Mac. That's the lowest level this year, and down from 4.55 percent a week earlier. (Those interest rates are for loans in which the borrower also pays a "points" fee of about 0.8 percent of the amount to be borrowed.)
Meanwhile, 15-year fixed-rate loans and 5-year adjustable rate loans hit record-low levels of 3.54 and 3.18 percent, respectively.
Mortgage rates have fallen in recent days because of the debt deal -- which averted a feared scenario in which the US Treasury ran out of funds to pay all its bills. That could have sent ripples of unrest through financial markets, pushing up interest rates throughout the economy.
So the good news for potential homebuyers is that the worst didn't happen, and that mortgage rates have actually fallen a bit as a deal was reached.
Rates may have also come down for other reasons, such as signs of weakness in the US economy, which in turn postpones the day when interest rates will start rising back toward more typical levels. Also, fresh concerns about government debts mean firmer demand for US Treasury bonds as a comparatively safe alternative.
---