Unemployment, Inc.: Six reasons why America can't create jobs
UPDATE: No net growth in new jobs in August kept the US unemployment rate at 9.1 percent. Six reasons the country is struggling to put people to work – and why it may not last.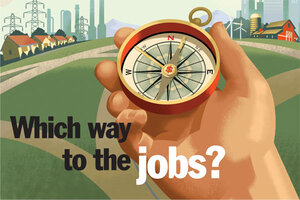 Nancy Stahl illustration
At age 25, Kasondra Clanton is a mom, a grad student, and, most worrisome to her at the moment, unemployed. Until recently, she worked as a drug counselor in Mississippi's Noxubee County School District. But local officials decided not to renew her three-year contract amid a paucity of public funding.
Now she and her boyfriend, Andron Harris, are struggling to make a better life for themselves and their 18-month-old daughter, Heaven. The main problem for both: an unforgiving job market.
Mr. Harris is employed. He slings boxes at a local warehouse for $9.82 an hour. But he says he has little hope for a raise or promotions. As a result, he has been looking for months for a better job – applying for more than 50 so far – and has gone back to school to learn to be an electrician.
IN PICTURES: The 10 happiest jobs
Ms. Clanton, for her part, is working on a master's degree in psychology. But both have discovered how hard it can be to find new work – with or without burnished academic credentials – in a state with a 10.4 percent jobless rate.
"Everywhere I go, they say I'm overqualified," says the young mother at the Leigh Mall in Columbus, Miss. While she chats, Harris shifts the baby from one hip to the other and skims e-mails on his phone, one of which relays a familiar message: latest job application rejected. "It makes me sad," Clanton goes on. "People say, 'Go to school and you'll get a job.' There's no guarantee you'll get a job."
---