Office vacancy: White-collar woes
(Read article summary)
White-collar jobs are under unprecedented pressure -- not just because of the sluggish economy but because of structural forces like outsourcing and automation.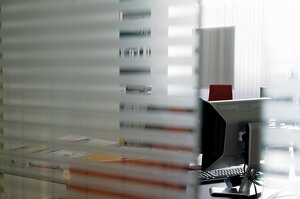 Newscom
Offices have been around since the earliest potentates and priests needed a place for scribes to craft grand pronouncements and number crunchers to tally the loot. For most of history, offices were for the fortunate few. It was nice work if you could get it, especially compared with plowing fields, lugging water buckets, and slaying Hittites. Only in the past century have most of us spent 9 to 5 Mondays through Fridays in offices.
During the 20th century, office work boomed. All those gleaming towers in every city around the planet represent a real-world bar chart that tracks the growth of office culture. And culture it is, though the white-collar theme usually centers around alienation and absurdity, as seen in everything from the Tracy and Hepburn classic "Desk Set" to Sloan Wilson's "Man in the Gray Flannel Suit," and from "Glengarry Glen Ross" to "Dilbert" to the comically transgressive world of "The Office." In offices, the ties of the past – family, farm, parochialism – could be set aside and new lives as corporate citizens could be forged.
Offices have many advantages (clean, well-lighted, air-conditioned) and drawbacks (tedium, gossip, PowerPoint). But while office life is easy to poke fun at, office work is an important part of millions of lives. World-changing ideas are launched in offices. Airplanes, algorithms, and electric grids are not the product of a sole proprietor scribbling at a kitchen table. Office workers accomplish great things and earn honest salaries, which cycle back into the economy as houses, groceries, and educational expenditures. Yes, there's also office politics. Office mates bond, disagree, and sometimes fall in love (see Tracy and Hepburn). All those inside worlds, after all, are occupied by humans.
---