Cyber Monday deals: Sears and Macy's show big deals aren't just at Amazon.
Macy's and Sears are offering Cyber Monday deals that go well beyond tech and toys. If consumers can stretch their minds a little, they might find Cyber Monday deals on a lot more.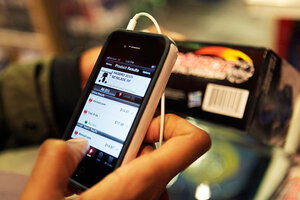 Seth Wenig/AP
For many holiday-season shoppers, the search for online deals on Cyber Monday is all about gadgets or gifts like toys.
But broad-line retailers such as Macy's and Sears are offering discounts Monday that go well beyond those categories. If consumers can stretch their minds a little further, they might find bargains on just about any type of consumer product, from things that go way up high in a home (think light fixtures) to rugs that you throw on the floor.
Of course, a first question is whether these extra items really belong in your end-of-year shopping budget.
Leaving that important issue up to you, the consumer, here's a look at what some department stores and other big retailers have on sale Monday:
Kohl's
The retailer got some good publicity for its simple offer of 20 percent off everything, plus free shipping with no minimum purchase. In addition, deals promoted on the Kohl's home page include a $9.99 pair of microfleece lounge pants and $90 for a six-bead sterling silver bracelet.
Macy's
Numerous clothing items and accessories are on sale, from Michael Kors handbags (various markdowns) to a Kenneth Cole Reaction peacoat at $70. Over in the furniture department, it's 10 percent off everything, from sofa's to dining sets and home-office items.
Target
---