Europe lays out bold plan to save euro: Can it avert global recession?
The nations of the European Union have agreed to submit to tighter oversight of fiscal policies as many struggle with severe debt that could kill the euro and cause a new global recession.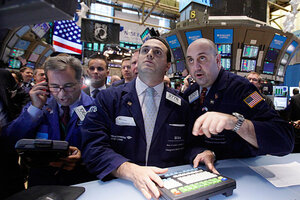 Richard Drew/AP
A move by European nations to more closely unite their fiscal policies sent stock markets higher Friday as it raised hopes that attempts to address the continent's debt crisis won't devolve into chaos.
The agreement, while significant, isn't a one-step roadmap for ending the euro zone's debt crisis, however. And it doesn't resolve a vital question for the rest of the world: Could the challenges in Europe result in a global recession next year?
The core challenge for the US as well as Europe is how to grow while households and governments are basically in retrenchment mode – tempering their spending after years of fast-rising debt.
For now, many economists are forecasting tepid growth globally, but with recession in Europe and some significant uncertainty elsewhere.
"We project that the global expansion will continue, albeit at a below-average pace," economists at Wells Fargo write in an outlook released this week. But they add that this forecast hinges on no deepening of troubles in the euro zone, "and the probability of another global financial crisis that emanates this time from Europe is not insignificant."
In the accord reached Friday, most European Union nations pledged to work toward a new EU treaty to demand greater fiscal discipline. Nations would face penalties for running up deficits.
---