2012 economic outlook: What's in store for next year?
With the housing market and auto sales showing some signs of life, pundits predict a better economy for 2012. But the ripple from a European downturn could erode the economic pace in the US.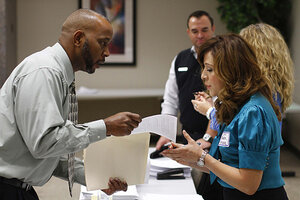 Joshua Lott/Reuters
As the US economy enters the new year, economists expect 2012 will be better than 2011. But don't pull out your party hat just yet.
Growth will be slow – between 2 and 3 percent. To many Americans, it will feel as if the economy is in recession even if it technically isn't. And economists will be warily watching events outside the US borders for any spillover effect here.
"The economy is going to be less than inspiring," predicts Mark Zandi of Moody's Analytics in West Chester, Pa. "But it will still be better than [it was in] 2011."
There are major ramifications for an economy that is not performing on all four cylinders. Among them: The housing and auto sectors, although expected to do better in 2012, will be operating at well below normal levels. The unemployment rate is not expected to improve much, which is not good news for the 13.3 million Americans looking for work. Investors, who are somewhat more optimistic according to year-end surveys, could nonetheless remain skittish, dissecting every economic statistic until they can get a better handle on the future.
As the US economy struggles to gain a foothold, the slow economic pace will leave policymakers with little margin for error – a bad decision by Congress or the president might be enough to cause the economy to stall.
How America's economy performs may depend in part on what happens in Europe, where nations are struggling with ways to try to save the European Union and embark on a major round of belt-tightening. So far, Mr. Zandi notes, the Europeans have made some progress – mainly ensuring that European banks have access to credit.
---