Are you smarter than an NFL star? A lottery winner?
High-profile jackpot winners fritter away winnings. An estimated 8 in 10 NFL players are bankrupt, jobless, or divorced two years into retirement. Could you manage a windfall better than they do? Here are six steps.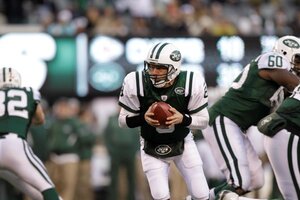 Kathy Willens/AP/File
After finishing his shift managing a Gold's Gym in Boise, Idaho, Brad Duke pulled into a Jackson's gas station to check some numbers he had played in the Idaho State Lottery.
He'd already spotted the winning Powerball jackpot number and "some numbers looked familiar," he recalls. "I thought I had won $1,000, maybe $5,000. The girl behind the counter ran the numbers, and usually when you win there's this little 'We're in the Money' jingle that plays. There was no jingle, and after a few seconds the girl started screaming and jumping around."
He panicked, grabbed the ticket, and bolted, forgetting to pay for his gas. As he pulled out, news trucks were pulling in. He had won $220.3 million.
Panic isn't the first thing that most people might feel after coming into sudden money, whether through winnings, an inheritance, or a big sports contract. But maybe it should be. While there are strategies to turn sudden riches into lasting wealth, the landscape is littered with people who lost their way among the trappings of affluence and requests from friends and family.
The National Football League's most recent tale of woe is Mark Brunell, a Pro Bowl quarterback who earned $50 million in his career. In 2010, he filed for bankruptcy, citing $25 million in debt from bad business deals. It's a common problem for pro athletes. The average pro football player earns a median $845,252 a year in a career that lasts 3.5 years, according to the league and the NFL Players Association (NFLPA). Just two years into retirement, by some estimates, 8 in 10 former NFL players are either bankrupt, jobless, or divorced (which creates its own financial burden). Pros in other major sports face similar problems.
---