Super Bowl cities: Is hosting a boon or a bust?
Super Bowl XLVI in Indianapolis, Ind. will bring tourists, visibility, and money. But is hosting the Super Bowl worth it?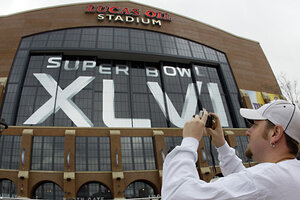 Mark Humphrey/AP
This Sunday evening, virtually all eyes in the United States will be on the Giants and the Patriots in Super Bowl XLVI. They will also be on Indianapolis, the city charged with hosting this year's big game.
For a small city, it seems like a golden opportunity: A Super Bowl means a huge spike in tourist dollars, a week of national exposure, and a featured spot in what is far and away the most-watched television event year after year. In 2008, the NFL estimated that host city Phoenix could expect to see a $500 million windfall during the four-day Super Bowl weekend. For Miami's 2010 turn as host, the estimate was $400 million. But is playing host to the Super Bowl really as sweet a deal as it sounds?
Yes, it's good, but maybe not that good. The windfall for Indianapolis will be closer to $150 million, according to Jack Ablin, an economist and the chief investment officer at BMO-Harris Private Bank, based in Chicago. "That's based on 150,000 people spending a thousand dollars each," he says. "And hopefully those numbers are a little conservative for Indianapolis."
He points to Dallas, which enjoyed a $200 million boost from hosting the Super Bowl last year just as the city was recovering from a damaging ice storm.
---