Super Bowl XLVI: 20 pregame facts
Super Bowl XLVI features the New England Patriots(15-3) versus the New York Giants(12-7) on Sunday in Indianapolis.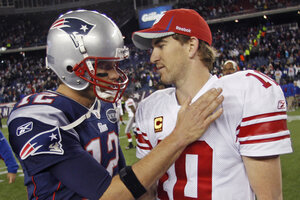 Charles Krupa/AP/File
Before settling into your favorite recliner or couch for Sunday's big game, here's a quick collection of information to help you enjoy America's most watched sports event:
1 - Kickoff on NBC is at 6:30 p.m., ET.
2 - Tickets were still being sold on the NFL's website this week for between $2,609 and $15,343.
3 - This game is the sixth rematch of previous Super Bowl opponents. The other rematches paired the Dallas Cowboys and Pittsburgh Steelers (twice), the Cowboys and Buffalo Bills (in the only back-to-back rematch), the Washington Redskins and Miami Dolphins, and San Francisco 49ers and Cincinnati Bengals.
4 - Both the Giants and the Patriots are seeking to win their fourth Super Bowls. Pittsburgh owns the record with six SB titles.
5 - The 30-minute Super Bowl halftime is twice as long as that for other games due to the logistics of a musical extravaganza, which this year stars Madonna.
6 - The two Super Bowl coaches, New York's Tom Coughlin and New England's Bill Belichick, were assistants to Bill Parcells when the Giants won Super Bowls XXI and XXV.
---