Americans' trend line on gasoline: Use less, spend more
US oil consumption is down, and fuel economy for new vehicles is at an all-time high. Despite these leaner ways, Americans are spending 65 percent more on gasoline since 2005. Why?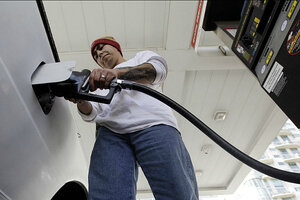 Marcio Jose/AP
Slowly, America is shifting gears toward a vastly more efficient use of gasoline in automotive transportation.
In recent years, the trends have been largely positive. Oil consumption in the United States – about two-thirds of which goes toward gasoline – has fallen 9 percent since 2005. Fuel economy among new vehicles sold in the US hit an all-time high last month of 23 miles per gallon. The result of these developments, and a boost in domestic production, means oil imports have dropped 31 percent since 2005.
Yet for Americans, using less gasoline has not meant saving more money. In fact, Americans are paying more than ever for gasoline – much more.
It is a contradiction driven by oil prices set on the world markets – as America begins to cut back, the demand in other nations such as China and India is skyrocketing. Add in the inscrutable decisions of OPEC, and you have America spending 65 percent more on gasoline since 2005 despite its leaner ways.
With part of the downturn in US demand connected to the weak economy, there is concern that the problem could grow worse when the economy eventually recovers and demand rebounds. Indeed, the current dynamic of less demand, higher cost, is throwing into doubt the accepted wisdom that improvements in auto fuel efficiency will put money back in consumers' pockets, some analysts say. The only way out of this vicious cycle, they add, might be out of oil altogether – a solution that is, at best, years away.
"Last year, Americans paid more for gasoline than in any other year before," said Gal Luft, executive director of the Institute for the Analysis of Global Security, a Washington energy-security think tank, in congressional testimony in December. "In other words, we became more self-sufficient and more fuel efficient and at the same time we became poorer and deeper in debt."
---