Who'll win the Mega Millions lottery? The states.
Mega Millions jackpot is the world's largest. But the chances of winning the Mega Millions are so slim that the only sure winners are the states, which get a little over a third of the take.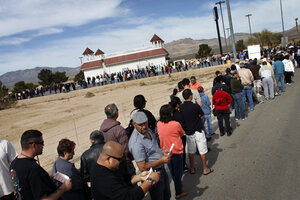 John Locher/Las Vegas Review-Journal/AP
It's a world-record jackpot of more than a half billion dollars that has Americans lining up Friday for a chance to win.
But the odds of winning the Mega Millions lottery are so slim – 1 in 176 million – that amateur statisticians have already calculated odds that suggest ticketholders are far more likely to be struck by lightning – or murdered – than they are to win the estimated $540 million grand prize.
The only sure winners are the 42 states and the District of Columbia, which sponsor the lottery. Indeed, the huge jackpot is drawing so many extra ticket purchases that the jackpot quite possible could grow beyond $540 million. That will mean even more money for the states.
"The states come out ahead because of the extra buying," says Philip Cook, professor of public policy at Duke University in Durham, N.C., and co-author of "Selling Hope: State Lotteries in America."
Much of that extra buying is expected to happen today as the evening's drawing nears. In Massachusetts, for example, local lottery officials predict outlets could sell as much as $10 million in tickets in a single day. Massachusetts represents about 2.5 percent of the lottery's national revenues. If that forecast holds true nationally, then Mega Millions would raise as much as $400 million Friday.
That amount – added to the hundreds of millions from the 18 previous drawings where there was no winner – could push the final amount much higher than the current estimated jackpot.
But the chances of winning remain just as slim, since lotteries have the worst odds of just about any legalized form of gambling.
---