The economic fallout of 'Linsanity'
Jeremy Lin is not only changing mainstream America's view of Asians. The New York Knicks star could broaden the aspirations of Asian-Americans themselves.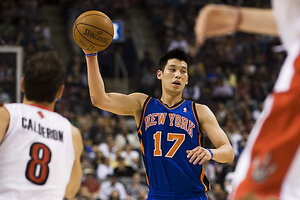 Aaron Vincent Elkaim/The Canadian Press/AP/File
It says something about the improbable season of Jeremy Lin that in two months he has gone from bench warmer to injured NBA star whose injury and six-week absence might keep the New York Knicks from making the playoffs.
Then again, everything about Lin has been improbable since he stepped onto a basketball court Feb. 4 and led the woeful and depleted Knicks to the first game of a seven-game winning streak. An Asian-American Harvard graduate – with a degree in economics to boot – was suddenly outscoring NBA stars. Commentators quickly dubbed it "Linsanity" – noting how odd it seemed that an Asian-American was the hottest thing in pro sports.
As an Asian-American, I have another word for his rocket-fueled season: inspirational. The bucking of the Asian-American stereotype is likely to have a positive effect, not only on the attitudes of non-Asians toward Asians but also on the aspirations of Asian-Americans themselves.
Many ethnic groups are stuck with worse stereotypes in America, but even the generally positive bias surrounding Asians can operate as a straitjacket. Asian-American kids are expected to be good at academics, especially math and science, and to excel at rote assignments, carrying them out obediently, politely, and responsibly. People believe we excel in our quantitative precision more than through any creativity or social skills – certainly not by dribbling a basketball!
These messages don't come just from American society. They often come from our parents, especially immigrant parents. They raise us to be very motivated in school and steer us away from social, athletic, or most artistic pursuits because such activities are typically viewed as detracting from, rather than complementary to, the main goal of academic excellence.
It's understandable why Asian immigrant parents (and immigrant parents generally) might raise their born-in-America kids that way. It's a safe way to help one's children integrate into and succeed within American society, since these precisely defined goals in academic subjects are less culturally and socially dependent. Someone who can solve math problems in Asia can solve them in America, too.
---