How Mormons – like Romney – cultivate business savvy early on
Shouldering responsibility from childhood – conducting meetings, raising money, and giving talks for adult crowds – Mormon boys learn skills that can them succeed in business. Some Mormons, like Mitt Romney, go on to have extraordinary business success.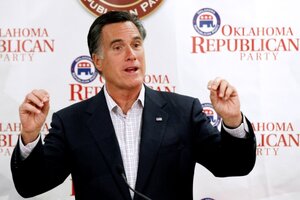 Sue Ogrocki/AP/File
In laying groundwork for a successful business career, it helps to become a religious leader at age 12.
That's when Mormon boys receive the first mantle of authority as deacons in the Church of Jesus Christ of Latter-day Saints (LDS), which has no professional clergy but vests ordinary people with religious duties, at young ages. Boys conduct meetings, raise money, and give talks for adult crowds while they're still settling into middle school.
Shouldering responsibility from childhood, according to scholars and observers, helps account for extraordinary success among executives such as Mitt Romney, who built a fortune in venture capital before seeking the GOP presidential nomination.
He's far from alone. Mormons have held top jobs at a range of brand-name organizations, from JetBlue to American Express, Marriott International to the Boston Celtics.
To be sure, the stereotype can be misleading. Plenty of America's 6.1 million Mormons don't climb the corporate ladder. The church does not aim to turn out C-suite executives. The connection between the religion and business leadership is more subtle than that, ob-servers say. For a child who has talent and ambition, the cultural conditioning the church gives can translate into a leg up in corporate America.
"You do see a disproportionate percentage of Mormons who have decent organizational and managerial skills," says Jeff Benedict, a Mormon journalist who profiles executives in his book "The Mormon Way of Doing Business: Leadership and Success Through Faith and Family." "That's because, at a very young age, Mormon kids are given responsibilities and taught to organize."
---