Mitt Romney's Mormon dilemma: To reach voters, should he discuss his faith?
Mitt Romney trails President Obama in polls on likability, and Republican strategists say his campaign is debating whether he should more openly discuss his Mormon faith.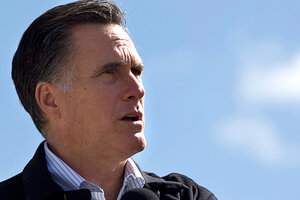 Steven Senne/AP
It was an arresting moment in Mitt Romney's presidential campaign: A questioner at a Wisconsin town hall in early April stood and raised the touchy subject of Mormonism and race. Mr. Romney answered tersely and moved on.
But a few minutes later, when asked if he was out of touch with average voters, the wealthy former businessman opened up about his Mormon faith – not theology, but his 10 years as a lay pastor.
"That gave me the occasion," Romney said, "to work with people on a very personal basis that were dealing with unemployment, with marital difficulties, with health difficulties of their own, and with their kids."
This rare discussion of Mormon practice offered a glimpse into Romney the man, and raised an important question: As the presumptive Republican nominee struggles with likability, should he open up more about the role that faith has played in his life?
The Mormon issue is a double-edged sword. The Church of Jesus Christ of Latter-day Saints, its formal name, is poorly understood and viewed warily by many Americans – including evangelicals, an important part of the Republican base.
But for Romney, a fifth-generation Mormon deeply involved in his church, including missionary service in France as a young man, more discussion of his pastoral activities could help warm up his image and show that he understands the problems of ordinary Americans.
This question is under active discussion within the Romney campaign, say Republican strategists. The campaign did not reply to requests for comment.
---